Harberton's Former Post Offices
The First Post Office
The house now called 'The Tall House' was the first Harberton Post Office, and is known to have been the home of the Andrews family (1841 Census onwards). The 1851 Census shows Elizabeth Andrews (58), widow, born Harberton, as Postmistress, and unmarried son Richard (25) as a shoemaker. By 1861 the house is known as The Old Post Office with Elizabeth still the Postmistress. The 1871 Census has Richard Andrews as the Assistant Postmaster. By 1881 he has made Postmaster; his mother died in 1882. In 1891, Elizabeth Polyblank, sister, widow, is Assistant Postmistress. As the house appears to have changed its name to The Old Post Office as early as 1861, it is not known whether the Post Office business remained at the house. (In 1948, a John Polyblank became the owner of the house which was then called Penryn. It became The Tall House in 1972.)
The following references exist:
Kelly's Directory 1856: "POST OFFICE - Richard Andrews, receiver. Letters arrive from Totness at ½ past 6 a.m.; dispatched at 7 p.m."
Kelly's Directory 1866: "POST OFFICE - Richard Andrews, receiver. Letters arrive from Totnes, which is the nearest money order office, at 5.30 a.m. ; dispatched at 7 p.m."
Morris' Directory 1870: "Post Office, Harberton – Mrs. Elizabeth Andrews, sub-postmistress. Letters from Totnes arrive at 7.30 a.m.; dispatched at 7.45 p.m."
Kelly's Directory 1889: "POST & M.O.O., S.B. & Annuity & Insurance Office (Railway Sub-Office. Letters should have R.S.O. Devon added).- Richard Andrews, receiver. Letters arrive at 5 a.m. & 5.10 p.m.; dispatched at 2.20 p.m. & 8 p.m. The nearest telegraph office is at Totnes."
The Second Post Office
'Tillyland' was the PO in the early 1900s, as can be seen from this postcard image (the postcard bears a 1906 postmark). The lower sign just to the right of the door says "Post Office..." and the thin sign by the right-hand window says "Telegraph Office".
The Third Post Office
was at 'Post Office Corner' until 1971(?), run for many years by Miss Winifred Austin. There was presumably a postbox here (?) but it was only after closure of this post office that a postbox appeared some time later next to the church gate outside the Church House Inn.
The following article appeared in the Totnes Times in about 197?:
Village fears loss of its post office
WHO WANTS TO BUS TO TOTNES?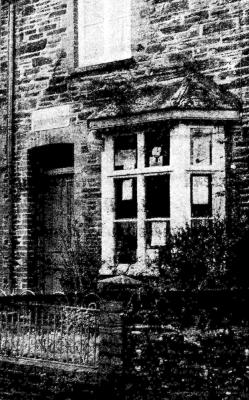 ELDERLY people in a South Devon village are anxious about .a threat of closure which hangs over their post office.
"Our village would be lost without one," many of them declared.
But prospects of a post office survival are not bright in Harberton. At the end of the year sub-postmistress Miss Winifred Austin retires and, despite three months of advertising, no-one suitable has been found to take on the work.
Since September, when Miss Austin was taken ill, an employee from Totnes post office has opened the Harberton premises for two hours a day, four days a week.
During the Christmas fortnight the office has been manned morning and afternoon by Mrs. Gladys Western of Totnes.
But while Totnes head postmaster Mr. Roger Culverhouse said he did not want to think in terms of closing Harberton's office, he added: "We could not continue to send someone out from Totnes indefinitely."
AWFUL PROSPECT
Mrs. Maggie Kerswell, who makes frequent visits to the village office, pleaded: "Surely they can do something for us. It is an awful prospect to be without a post office."
Mrs. Hilda Day, who also uses the office regularly, claimed: "It will be wicked to close it. Why can't the parish hall be opened for business? There must be getting on for 200 people here drawing pensions, family allowance or national assistance."
Said Mrs. Emma Widger, who fills out her pools coupon once a week at the post office: "Who wants to travel to Totnes post office? It would cost me half my pension to go there."
Eighty-nine-year-old Mr. Bartlett Searle complained: "Everything is dear enough these days. I couldn't possibly afford to catch a bus to Totnes."
Mrs. Anita Blight, who said she visited the post office most days, added: "The bus fare to Totnes is 2s. 7d. return. I'm 72 next March and I wouldn't fancy that journey every week."
Mother of five Mrs. Doreen Squires, who goes to the post office three times a week, stressed that Harberton needed such a facility because of a poor bus service.
She went on: "There must be one retired person here who would be willing to take on the job."
Parish council chairman Mr. Robert Coates said his council was doing all it could to look out for a successor for Miss Austin. In a letter from the Totnes head postmaster, Mr. Coates was told that one application had, in fact, been received, but the person concerned was prepared to open only a few hours a week, and the accommodation was inadequate.
SALARY: £285
Mr. Coates was also told that an annual salary of £285 would be paid.
Mr. Culverhouse explained that arrangements would be made to use Mrs. Austin's premises for a while.
He went on: "We want someone who is willing to work somewhere near the standard hours. I am surprised that no-one has had the initiative to open a small shop and post office in Harberton."
Assistant post master Mr. C. F; Patey said he was grateful when Mrs. Western agreed to look after the Harberton office, as Totnes needed as many staff as possible over Christmas.
He pointed out that sub post offices in North Huish, Littlehempston and, more recently, Aish, had closed.
"But Harberton .deserves a post office and we want to see one continue there."
The Fourth Post Office
Following the illness and retirement of Miss Austin, Lavinia Dyer took over running a postal service in the village after her husband Rodney who was a postman was asked if his wife would do it. She did it for about 5 years, finishing ca. 1970/71. At that time there were many old people / pensioners in the village. PO advertised for new postmaster but without success. Lavinia was born in house next to shop in Fore Street. Moved to middle of (then) three cottages (St Andrews Cottages), next door to where Betty now lives. These 3 cottages are now 2 (western two combined). She then lived at Pendarves for 41 years.
Sidenote: A plaque in the church by the belltower relates to the restoration and rehanging of the bells which was completed in Feb (?) 1984 following 13 years of silence, the costs for which were covered to a large extent by a generous bequest from Winifred Austin.