All Hands On Deck
Sea Shanty Crew
We are a new Sea Shanty Crew based in and around Stoke Gabriel in South Devon open for new bookings.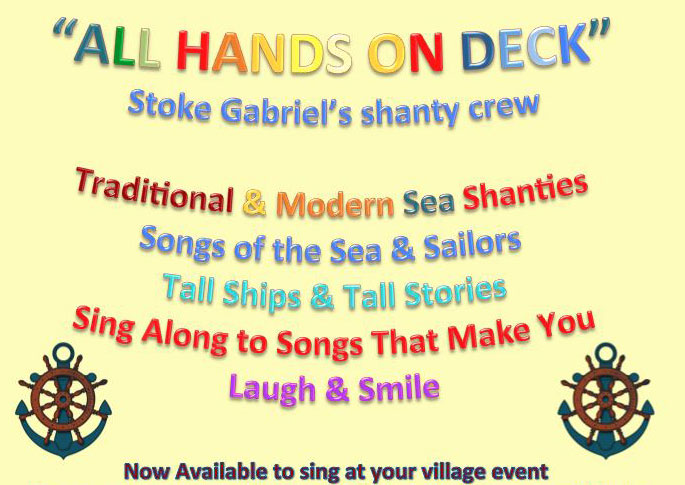 Contact us via our Facebook page at www.facebook.com/profile.php?id=100076369461900.
Welcome to "All Hands On Deck" - Stoke Gabriel's sea shanty crew. We are a mixed group of shanty singers based around the lovely South Devon village of Stoke Gabriel nestling next to the fabulous River Dart.
We love to sing traditional & modern sea shanties, songs of the sea, humorous sea songs and generally have a huge amount of fun with our audiences when we sing for them. We love for audiences to sing with us and have many songs which encourage audience participation and some silliness with us...all in the best possible taste. We usually collect donations for the R.N.L.I. and other good local charities.
We are happy to sing in halls and homes, houses and gardens, quaysides and docks, on boats and near boats, in churches, at fetes and parties, anniversaries and birthdays, singing festivals and shanty events around the south.... and in fact pretty much anywhere we can go singing.
We are a mixed group of ladies and gents some very experienced shanty singers and others who just love singing with us for the fun and love of it all. We can be any size from 2 -3 folks right the way up to 14 or 15 if we all turn out to a singing shout. We can mix and match to suit your event for sure.
If you have an event coming up in 2022 and would like to have us along for a bit of fun and singing then please see our Facebook page at www.facebook.com/profile.php?id=100076369461900 for contact details.
Looking forward to some more great singing in 2022!!
All Hands On Deck!